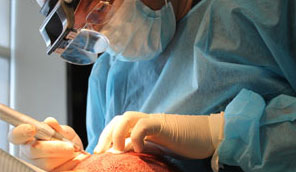 Some hair restoration surgery performed at the Manzanares Hair Restoration Center involves various types of corrective procedures to fix the hair transplants, flaps and scalp reductions performed by other surgeons.

Over the last few years, refinement and improvement in the hair transplant techniques has allowed us to create wonderful results. Sad to say but we are still seeing many patients visiting our office for consultation with the pluggy grafts of previous surgery from other physicians.  The past techniques used were either the big plugs or the micro/mini type of surgery.

At Manzanares Hair Restoration Center, we have the expertise to correct the old "pluggy" or "corn-row" look that resulted from outdated or poorly planned procedures. This can be accomplished by camouflaging the old work or, when necessary, actually removing the larger grafts and re-transplanting the hair in a more natural pattern.

When treating a patient who has had a plugs type of surgery, Dr. Manzanares has developed the effective treatments that take into account any previous scarring namely (1) Augmenting the existing "plugs" with new follicular unit transplants, and (2) Removing old "plugs" especially if they are in the hairline and reinsertion of new follicular units using Follicular Unit Transplantation method. These corrective procedure are carried out with the aid of Computer Aided Magnification (CAM) that gives us the ability to remove old plugs, separate them into individual follicular units, and re-implant them with minimal to no damage at all.

In these cases, Dr. Manzanares conduct thorough examination of the previous work, assess for proper circulation and develop a highly individual approach to make certain that our patients will lastly achieve the best and natural-looking hair restoration.

Hair loss questions? Interested in our services? Need more info? Arrange a FREE Online Private Consultation or Visit Us at Our Hair Restoration Center!