Hair restoration might be the most important self-improvement decision of your life. If you suffer from hair loss, the stigma of "baldness" is one of the first ways that people think of to characterize you. In the mind of an average person, a fuller head of hair represents attractiveness and desirability both personally and professionally. If you have thought in the past that hair transplants look "fake" or is noticeable, today I will change your view on surgical hair restoration.

Dr. Frank Manzanares, Jr.
Founder and Medical Director of Manzanares Hair Restoration Center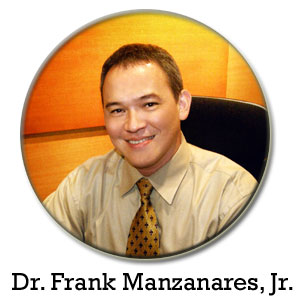 Dr. Frank Manzanares, Jr., Founder and Medical Director of Manzanares Hair Restoration Center is committed to delivering outstanding hair transplant procedures that make a positive distinction in the lives of his patients.
For more than 26 years, Dr. Frank has been practicing surgical hair restoration, 16 years of these in the U.S. most notably on the home of Hollywood celebrities, Beverly Hills. He is also in the forefront of medical and surgical research and development in the field of hair restoration and aesthetic surgery.
Dr. Frank Manzanares is a specialist in Surgical Hair Restoration and performs follicular unit extraction (FUE), and follicular unit transplantation (FUT) in his Ortigas, Philippines office. A practice solely dedicated to Hair Restoration.

Dr. Frank Manzanares specializes in all micro-follicular unit grafting, with surgical expertise in Large 3000 - 4000 hair transplant procedures for MEN, repair of transplants on patients who have had outdated procedures performed, hair transplants to EYEBROWS, EYELASH, BODY and FACIAL (Sideburns, Mustache, Beard) work and HAIR LOSS in women for 26 years. Given his extensive US training in Hair Restoration, his medical/surgical research and development of different techniques in the hair transplant field, combined with his artistic passion, he has uniquely elevated the science of hair restoration to an ART form.

Dr. Manzanares is committed to producing excellent results. Assisted by his surgical staff, they prepare micro-follicular unit grafts using special computer-aided magnifiers. He carefully creates all the incision for the grafts using small custom surgical blades. These special instruments create tiny and minimally invasive incisions that enables patient to achieve cosmetic density in a given area even after only one surgical session.

Dr. Frank performs all consultations at his clinic personally. He has numerous patients throughout the U.S., EUROPE, MIDDLE EAST, ASIA, AUSTRALIA, and the PHILIPPINES whom he communicates with. He stresses the importance of establishing a solid doctor-patient relationship. Each step of the process, from the initial consultation, to the actual procedure(s), and follow-up care, is performed personally by Dr. Manzanares.

Dr. Manzanares' dedication to improving lives through his chosen profession is one of the driving forces behind the growth and success of Manzanares Hair Restoration Center today and for the years to come.
FRANCISCO BAKER MANZANARES JR., M.D.

Founder and Medical Director, Manzanares Hair  Restoration Center
Founder and CEO, Hair Restoration 2000 Inc. (US-based Corporation)
Founder and CEO, Manzanares 2000 Inc. (US-based Corporation)
Founder and CEO, Genesis 2000
Doctor of Medicine, Ateneo de Davao Medical School Foundation
B.S. Zoology, University of the Philippines at Los Banos
Professional Affliations:  

International Society of Hair Restoration Surgeon  
European Society of Hair Restoration Surgeon
Trichological Society
Philippine Medical Association
Pasig Medical Association
Upsilon Sigma Phi
Organization of Zoological Majors
Certified Advanced Cardiac Life Support
Certified Advanced Trauma Life Support 

Hair loss questions? Interested in our services? Need more info? Arrange a FREE Online Private Consultation or Visit Us at Our Hair Restoration Center!